Wren: Drafts & Posts
Cadence & Slang
is a book of evergreen principles that help you build useful products. Over 3,400 copies sold to date.
If you like Twitter and hate reading tweets as much as I do, Wren serves as a great notepad for writing and publishing one-off, broadcast tweets.
Its interface recalls a legal pad, and is one of the last vestiges of Lucida Grande that I consistently see after Yosemite's recent release: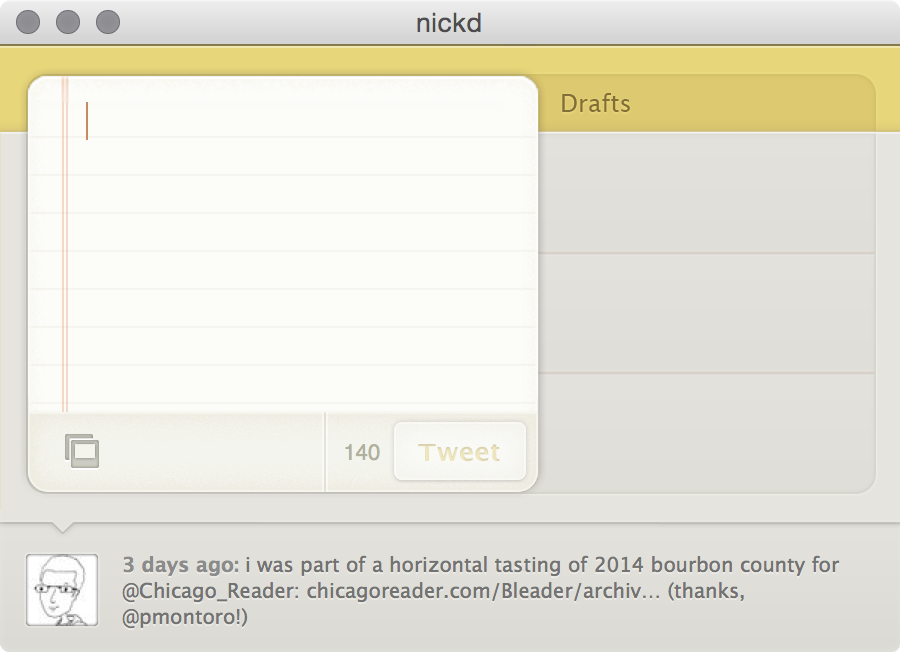 This speaks to the need for many designers and developers to rework their applications to fit not only Yosemite's embrace of Helvetica Neue, but also the new screen sizes of the iPhone 6 and 6 Plus, as well as iOS 7's new interaction model.
2.8 of Cadence & Slang states that the platform of a given product defines its norms. In Wren (and any other Mac app)'s case, what happens when the platform shifts? You automatically look out-of-date when the new thing comes out, and need to put in a lot of work to fix it.
Switching accounts is sensible and easy – just click your avatar at the bottom left to choose an account, or add a new account. Drafts appear at the right – but no previous log of what you tweeted, except for your most recent tweet at the bottom.
There's an icon that looks like a window at the bottom left of the tweet dialog – which, when clicked, opens a file selector. Is this to select a text file to import? Do people really need that for their tweets? Or can they just write their drafts directly in Wren?
There's no way to undo a tweet that you posted – that I can find, at least – which violates 4.2.3 of Cadence & Slang, that you should encourage undo whenever possible. And while Twitter makes it impossible to edit a tweet, I continue to wish that were the case, so I wouldn't have to delete and re-publish something I already posted.
Takeaways
Fit the context of your platform. When your platform changes, so should your product – if you want people to continue recommending it to others. Otherwise, you run the risk of people thinking you've stopped developing the product.
On Mac OS X apps, move ancillary functionality to menus. It's unlikely you'll want to import tweets too frequently, so this should likely exist as a menu option only – not in the main interface.
Make it possible to undo and edit past work. If you can create something in your product, make it so you can edit what you created, or remove it entirely.
For more on these principles, read Cadence & Slang today.